We Wish You A Merry Christmas!
Well, what a year it has been! Looking back on 2021, it's undoubtedly been eventful. With the first few months in another, and hopefully the last, national lockdown, it has been onwards and upwards, and that is still the case for Excell.
2021 has been a year of immense growth and development for the company. With the addition to the office team of two Digital Marketing Executives, taking on three apprentices in the workshop, as well as the announcement of our £250k investment on the expansion of the business. With the hardships because of the pandemic; we are truly grateful that we have been able to go ahead with the expansion. Excell has been going from strength to strength thanks to our hardworking employees as well as our extraordinary and loyal customers.
The result of our expansion investment will be in the opening of our new machine shop. The opening of our own machine shop will mean that we will be able to deliver a much more reliable and in-house tool supply which will reinforce our reliable, on-time delivery. The ability to produce our own tools will also mean that our carbon footprint will be lowered, moving us towards being a greener Excell. This will be launched in the new year – more details coming soon.
We will be having our annual Christmas Shutdown from the end of play on the 22nd of December 2021 and will be opening again on the 4th of January 2022. Although we will be closing, there are preparations in place that will ensure that come the new year, all our customers will receive our always improving excellent service. The expansion of our team and the opening of our new machine shop has meant a great development in our ambition to deliver an outstanding service to all our customers.
On behalf of the team at Excell, we wish you all a Merry Christmas, a Happy New Year, and we look forward to 2022 and all it may bring.
Best Practice
In this blog, we explore a brief on how metal spinning works and why it is so adept at making lampshades. We will also take you through how we can help with your lampshade projects, showcasing real world examples of our work. So enough talking, and let's get straight to it.
Read More »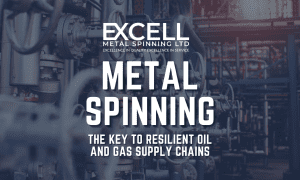 Insights
Explore how metal spinning can help mitigate risks associated with environmental concerns, geopolitical instability, and supply chain disruptions
Read More »
Insights
Spinning Towards Sustainability: Excell's Green Journey Join us as we explore the remarkable partnerships, local connections, and sustainable initiatives that shape our commitment to a
Read More »