We are fast approaching Christmas and the New year, and on the back of some challenging times, we can now finally catch our breath. Or can we? With Make UK's Quarterly 'Manufacturing Outlook' now released, it certainly paints a bleak outlook for the new year.
Make UK is predicting that manufacturing will plunge into recession next year as a result of numerous economic factors. But arguments are already being made to suggest UK manufacturing is already in a recession. Particularly on the back of the latest ONS readings for October which show production was 7% below May 2021's peak. The argument that UK manufacturing is already in a recession further stems from falling output in the last five consecutive quarters. It's therefore hard to argue that industry is not already battling the recession.
Julian Jessop at CAPX even puts forth the case that, on the basis of Make UK's prediction of a further fall of more than 3% in 2023, British manufacturing, it would appear, is closer to emerging from a recession. This is certainly a far cry on the idea that British manufacturing is set to plunge into one.
Make UK does, and with good reason, flag up the negative impacts but are they too pessimistic about the state of UK manufacturing? The concerns raised by them include tighter fiscal policies and weakening consumer demand along with increasing costs across the board. But surely, even now tides are starting to turn?
There are many reasons to believe cost pressures are beginning to ease, and many like Julian point this out. Let's take commodities like fuel for example. The Express on Tuesday 13th, reported that Oil prices have fallen below $80 for the first time this year. RAC fuel spokesman Simon William even highlights the ever growing  pressure on the biggest fuel retailers in their statement. Especially now that Petrol and Diesel wholesale prices have tumbled down to 105p and 119p per Litre respectively.
The disparity between wholesale and average pump prices is truly shocking however. And along with The Express, The Guardian  report on the big retailers using 'rocket and feather' tactics whereby prices sharply rise, but slowly fall despite tumbling wholesale prices. This is a major cause for concern, and one which the Competition and Markets Authority should take note of. Should these dirty tactics continue into the new year, this could be detrimental to manufacturers in industry.
Nevertheless, manufacturers have also been witness in recent weeks to falling industrial metal prices. The Raw Steels Monthly Metal Index (MMI) has seen a fall of 2.34% since November. Prices for hot rolled coil saw a 12.6% month over month decline whilst plate prices also fell by 2.9%.
Meanwhile, The Times reports a steep fall in shipping costs by as much as 30% in the last two months. The cost of moving a container from China to Europe has been slashed in half compared to this time last year, and this has stemmed from congestion in global supply chains easing and demand falling.
Fiscal policies within the UK on the other hand, will be jumping from 19% to 25% come April 2023. However, the overall stance is expected to loosen over the next couples of years with an additional £100bn of government spending on public services and support for households. Demand from consumers is therefore likely to be cushioned as Julian explains, even for manufacturers in the UK.
Make UK does reflect on the positive viewpoint many manufacturers have, and in most regions, going into 2023. Despite the negativity that currently clouds our industry, many other surveys share similar results. The pandemic and the disruption it caused encouraged a reduced dependency on vulnerable supply chains and boost supply chain resilience.
Brexit is also widely regarded as a factor in declining output within British manufacturing. Yet evidence suggest this is not the case. Make UK highlights the food and drinks industry, the largest manufacturing subsector in terms of gross value added, had in fact held up relatively well. An increase in UK demand met from domestic supply is considered a big contributor to this.
Furthermore, it was reported that the automotive sector is predicted to increase output by as much as 9% leading into 2023. Global drivers such as the lifting of China's Covid policies among other economic factors, will see an easing of shortages of semiconductors and other high demand parts.
Of course, it is not the end of manufacturing. But let's be realistic, manufacturing investment has been weak at best and Brexit uncertainties had unfortunately, played a role in this too.  All eyes will now be on China and their shift in policies as well as the global energy markets as the Russia invasion of Ukraine continues.
Is it all doom and gloom for manufacturers in 2023? Perhaps not nearly as much as headlines would have you think. No doubt there will remain many challenges lying ahead. However, like many, I am confident in the resilience of UK manufacturing. Can we sail out of the storm? Well that depends on many things …
Best Practice
In this blog, we explore a brief on how metal spinning works and why it is so adept at making lampshades. We will also take you through how we can help with your lampshade projects, showcasing real world examples of our work. So enough talking, and let's get straight to it.
Read More »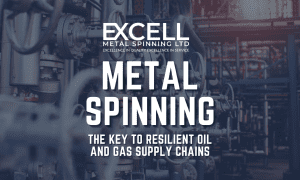 Insights
Explore how metal spinning can help mitigate risks associated with environmental concerns, geopolitical instability, and supply chain disruptions
Read More »
Insights
Spinning Towards Sustainability: Excell's Green Journey Join us as we explore the remarkable partnerships, local connections, and sustainable initiatives that shape our commitment to a
Read More »