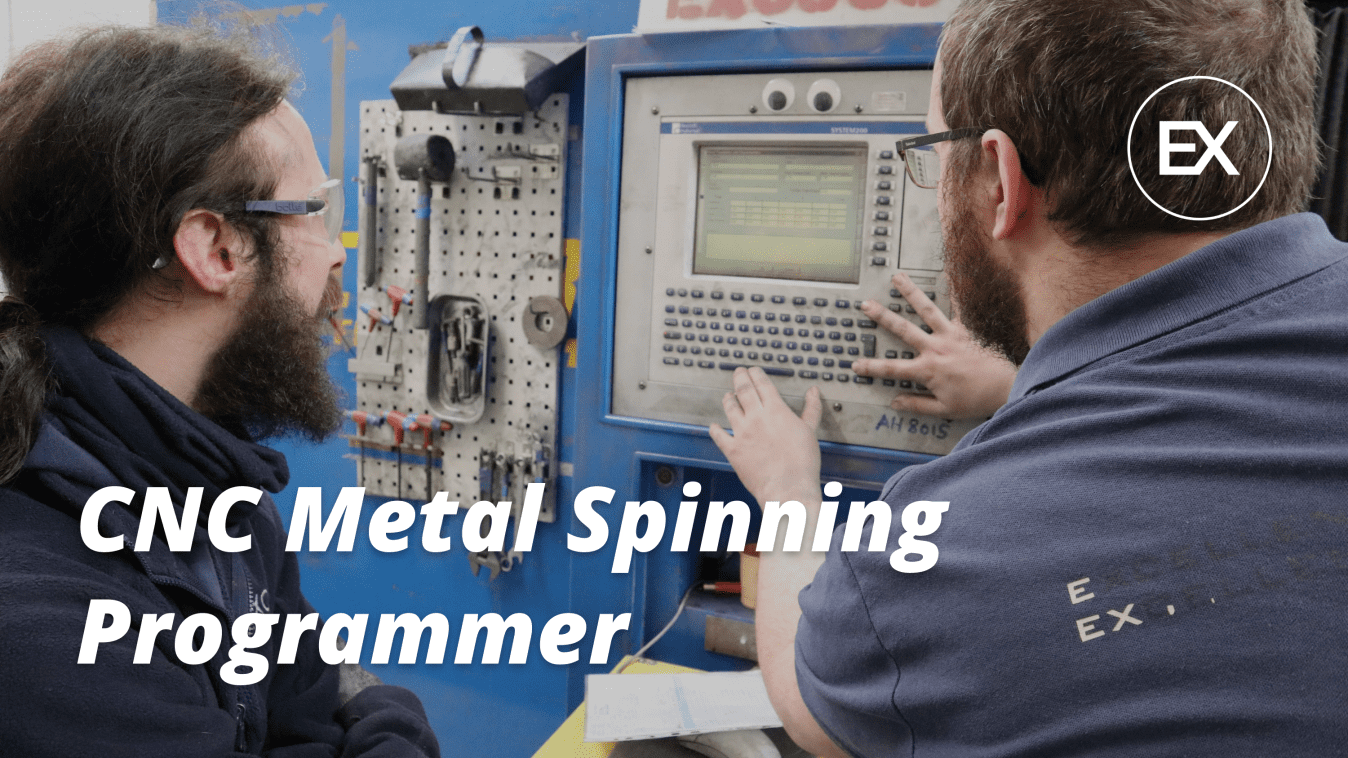 Excell Metal Spinning Ltd. Is excited to announce a CNC Metal Spinning Programmer opportunity within our growing facilities. We are giving people the opportunity to spread their wings and learn what it truly takes to become some of the country's leading Metal Spinning craftsmen.
About Excell
Excell is one of the fastest growing Metal Spinning businesses within the UK. Based in Hilsea, Portsmouth, we have firmly established our brand along the south coast as a Market leader for bespoke, tailor-made solutions for a wide variety of industries.
Since 2000, the business has continued to grow from the current two Directors to a workforce that totals 28. All the while occupying premises 21,000 sq. ft in size and complimented by one of the UK's largest fleet of CNC Metal Spinning lathes.
There are three main principles set by the Directors and they are in order;
Health
Safety
Quality
The company has kept to these principles ever since, whilst offering a service of 'Excellence in Quality, Excellence in Service', a slogan that is ingrained into every spinning we produce.
What does the CNC Metal Spinning Programmer job entail?
We currently have a new and exciting role for a CNC Metal Spinning Programmer. This is an excellent opportunity to join a professional and experienced team that is continuing to grow. Build new skills, develop existing skill sets, and gather new knowledge with on-site training provided.
A CNC Metal Spinning Programmer should have experience with CNC programming, metal spinning processes, and an understanding of metalworking materials and techniques, however, we are open to hiring new graduates willing to learn on the job. They should also have strong problem-solving and analytical skills, as well as the ability to work with precision and attention to detail.
What are a CNC Metal Spinning Programmers Key Responsibilities?
Programming CNC machines using CAD Cam software to produce parts and components according to specifications and blueprints.
Setting up and configuring CNC machines, including installing tooling and making necessary adjustments.
Creating and editing CNC programs to optimize machine performance and improve production efficiency.
Running test runs of CNC programs to ensure accuracy and quality of the final product.
Troubleshooting and resolving issues that arise during production runs, such as tool wear or machine malfunctions.
Collaborating with other departments, such as quality control, to ensure that final products meet specifications and quality standards.
Training and supervising junior operators on proper machine operation and maintenance.
Keeping accurate records of production runs, including material usage, production time, and machine downtime.
Continuously monitoring and analysing production data to identify areas for improvement and implement process changes.
Stay up to date with the latest technology and advancements in the field.
From time to time, to take on roles and responsibilities as reasonably required for the immediate needs of the Company.
What Hours and Wage does this role involve?
As part of the contract of employment, the CNC Metal Spinning Programmer will be expected to work 40-45 hours per week.
Excell Metal Spinning Ltd.'s opening hours are Monday – Thursday 7am-5:30pm (and Friday 7am-12pm if required).
Excell also offers a competitive wage depending upon experience.
Preferred skills and qualities
Previous machine operator experience
Proficiency in using CAD Cam software
Ability to read, understand and interpret engineering drawings
Able to use a variety of measuring equipment
Must be able to lift at least 25 kg
Tool room experience would be a positive
Can ensure that their work is high quality with attention to detail
Excellent time management skills and able to prioritise your workload
Ability to communicate effectively and clearly with employees at all levels
Positive attitude
Strong team player
Fluent in English
Additional Information and Company Benefits
Overtime available where required
5 days leave + Spring, Summer, and Winter Shutdowns + Bank Holidays
Free Parking
Pension Scheme
AXA Healthcare (effective after qualifying period)
Future Prospects
At Excell, we have an equal opportunity "To All", so each member of staff will be given responsibilities to progress within the organization when the eagerness, willingness and competence is shown.
Think you have what it takes to become a CNC Metal Spinning Programmer at Excell Metal Spinning? Apply today by submitting your CV to sales@excellmetalspinning.com